The Landing
Original Off-Broadway Cast Complete Recording
CDJAY2 1432
DDD
DISC 1 67'58"
DISC 2 26'19"

Book and Lyrics by
Greg Pierce
Music by
John Kander
Story by
John Kander And Greg Pierce
with
Julia Murney, David Hyde Pierce, Frankie Seratch, Paul Anthony Stewart
Dear Listener,
Thanks for wanting to hear our musical The Landing. A few words about how it came about, in case you're interested. We both got excited about the idea of writing a one-act musical that's so small it could be performed in your living room...just four actors and four musicians. We're great fans of short stories so we liked the idea of there being a narrator. We hit on this idea of a boy who becomes fascinated with the constellation myths as well as the carpenter who knows all about them. So that became the first one-act, Andra. We both love opera and operetta so we decided to mess around with the musical form a little so it differs from the scene-song-scene approach of the tradition musical...you'll see. We owe thanks to the great writer and friend William Goldman who first suggested we turn Andra into a full-length evening of theater. We decided to write two more one-acts which could be performed by the same four actors and instruments. We wrote the one-act The Landing next, and then the more comic (hopefully) one-act The Brick to go in the middle. We workshopped these one-at-a-time at our beloved artistic home The Vineyard Theatre in NYC, always with our intrepid music director David Loud and a bunch of wildly gifted actors, some of whom you're about to hear. The show premiered at the Vineyard Theatre in 2013 helmed by the inventive director Walter Bobbie and we watched our "living room musical" come to life.
We loved making The Landing. We hope you enjoy listening to it. Warmly,
John Kander and Greg Pierce
This CD package contains a 44 page lavishly produced perfect bound book including the libretto and production photos from the show.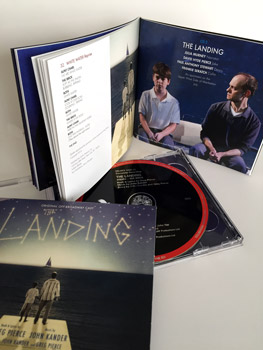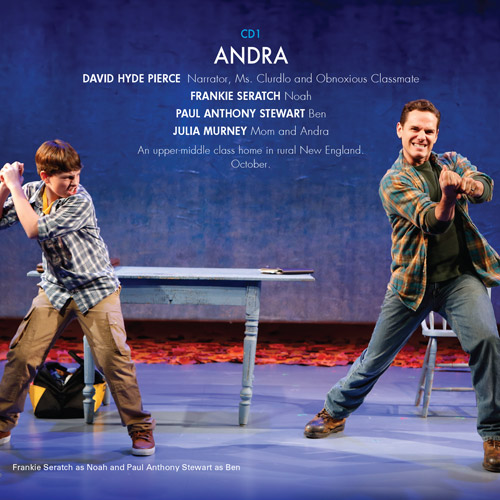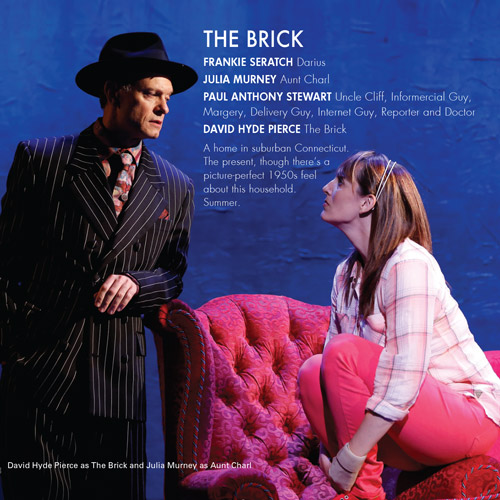 ANDREA (CD1)
OPENING

YOU HAVE A DAUGHTER

NUMBERS

ANDROMEDA

SIGNATURES

PEGASUS IS JUST A SQUARE

THE NEXT DAY

ALL YOUR BELONGINGS

NOAH AT NIGHT

BEN'S METAL FILE

I'VE NEVER TOLD ANYONE

LOOK UP

WORLD THROUGH MY TELESCOPE

THREE BIRCH HILL

HOW MUCH LONGER

NOAH'S LETTER

NOAH LISTENED

FINALE SCENE

BRICK (CD1)
OPENING

BANG BANG BANG

NINETY NINE

A BRICK OF MY OWN

GRAND ENTRANCE

BED TIME

WHITE WATER

WHERE DID YOU

PLEASE BRICK

BURYING THE BRICK

THE FIGHT

QUARTET

TO WILLOW GROVE

WHITE WATER Reprise

THE LANDING (CD2)
OPENING

BIG BOAT

SETTLING DOWN

THINGS WENT ON LIKE THIS

IT FEELS SWELL

MORE LEMONADE

YOU DON'T KNOW IT

HOW ABOUT NEXT SATURDAY?

IT WAS A NASTY STICKY AFTERNOON

WASN'T HE MINE?

COLLIN'S NOTES

BIG BOAT Reprise

THANKS FOR THAT

FINAL MUSIC

STREAMING DIRECTLY BELOW
APPLE MUSIC >>> SPOTIFY