The Scottsboro Boys (London)
Original London Cast Recording
WINNER!
BEST MUSICAL
Evening Standard Theatre Awards 2014


"BRAVE, BRILLIANT AND UMISSABLE."
The Times


"THE BEST MUSICAL OF THE YEAR"
Sunday Express


"AUDACIOUS. ELATING AND SHOCKING.FINGER SNAPPING, TOE-TAPPING. TREMENDOUS"
Financial Times


"FANTASTIC. NOT TO BE MISSED"
Daily Express


"A SHOCKING, GRIPPING, SUPERBLY STAGED,FABULOUSLY WELL PERFORMED SHOW"
Mail On Sunday


"EXTRAORDINARY AND UNFORGETTABLE"
Metro


"OUT OF THIS WORLD"
The Observer


"INTOXICATING"
Daily Mail
The final collaboration between legendary composing duo John Kander and Fred Ebb (Cabaret, Chicago), The Scottsboro Boys tells the story of a group of nine black teenagers, brought together by fate in a case that sparked the American Civil Rights Movement and led to two pivotal Supreme Court rulings.
In true Kander and Ebb style, where the masters of the musical take difficult subjects and mold them into extraordinary, exhilarating entertainment, The Scottsboro Boys is breathtaking theatre. Experience this thrilling and bold new musical, with an outstanding ensemble, written by David Thompson and directed by 5 time Tony Award-winner Susan Stroman (The Producers).
Cast
In alphabetical order
JOSHUA DA COSTA Roy Wright
BRANDON VICTOR DIXON Haywood Patterson
COLMAN DOMINGO Mr. Bones Sheriff Bones/Lawyer Bones/Guard Bones/Attorney General and Clerk
JULIAN GLOVER The InterlocutorJudge/Governor of Alabama and Bus Driver
DAWN HOPE The Lady
EMMANUEL KOJO Clarence Norris and Preacher
JAMES T LANE Ruby Bates and Ozie Powell
DEX LEE Victoria Price and Charles Weems
FORREST McCLENDON Mr. Tambo Deputy Tambo/lawyer Tambo/Guard Tambo and Samuel Leibowitz
KEENAN MUNN-FRANCIS Eugene Williams and Little George
ROHAN PINNOCK-HAMILTON Olen Montgomery
EMILE RUDDOCK Willie Roberson and Electrified Charlie
CARL SPENCER Andy Wright
JOSHUA DA COSTA Electrified Isaac and Billy
Special Thanks and Gratitude to Paula Marie Black for her generosity, commitment and support, without which this recording would not have been possible.
CD ONE
MINSTREL MARCH
Julian Glover, Orchestra
HEY, HEY, HEY, HEY!
Company
COMMENCING IN CHATTANOOGA
Brandon Victor Dixon, The Scottsboro Boys
ALABAMA LADIES
Dex Lee,James T Lane, Guards
NOTHIN'
Brandon Victor Dixon
ELECTRIC CHAIR
Guards, Keenan Munn-Francis, Emile Ruddock, Joshua Da Costa
GO BACK HOME
Brandon Victor Dixon, Keenan Munn-Francis and The Scottsboro Boys
SHOUT
The Scottsboro Boys
MAKE FRIENDS WITH THE TRUTH
Brandon Victor Dixon and The Scottsboro Boys
THAT'S NOT THE WAY WE DO THINGS
Forrest McClendon
NEVER TOO LATE
James T Lane, Company
FINANCIAL ADVICE
Colman Domingo, James T Lane
SOUTHERN DAYS
Julian Glover and The Scottsboro Boys
ALABAMA LADIES (Reprise)
Dex Lee
ZAT SO?
Julian Glover, Forrest McClendon, Brandon Victor Dixon
YOU CAN'T DO ME
Brandon Victor Dixon, The Scottsboro Boys
THE SCOTTSBORO BOYS
The Scottsboro Boys, Julian Glover
MINSTREL MARCH (reprise)
Julian Glover, Orchestra
LAST SCENE
Dawn Hope, Julian Glover
EXIT MUSIC
Orchestra
GO BACK HOME (bonus track)
Brandon Victor Dixon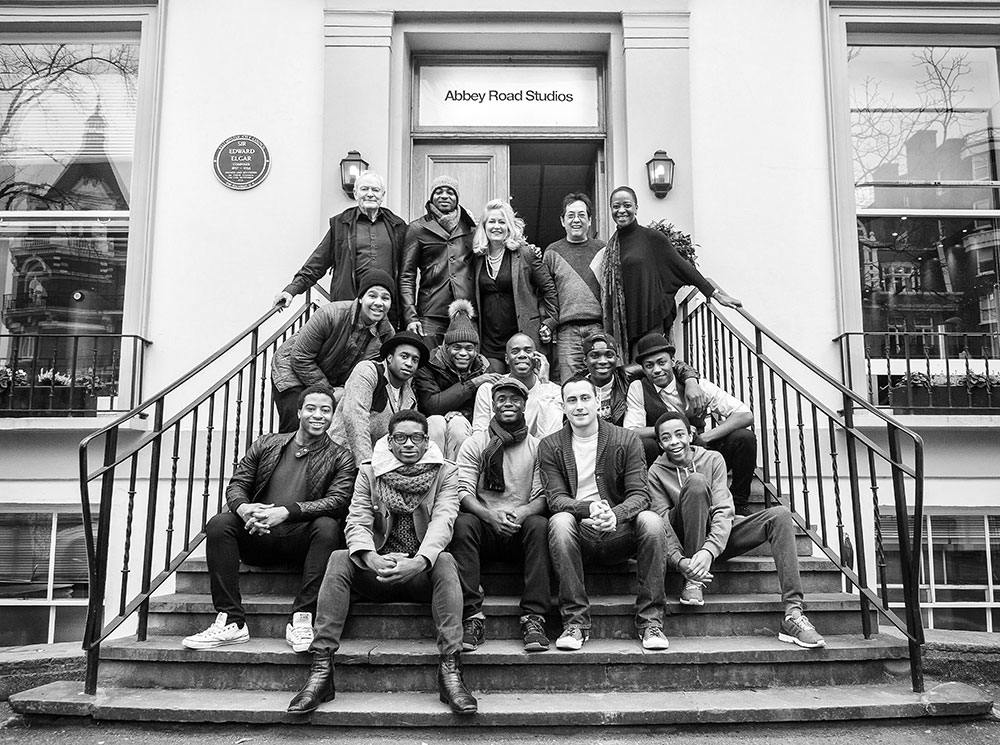 cast of THE SCOTTSBORO BOYS
recording at Abbey Road Studios